Transition 01. India - a nation in transition.
BALANCING A BILLION
India is a nation in transition.
In a country where chaos seems to be the natural condition, this change is not always noticeable. The present speaks with a new assertion, but the past is still a very visible companion.
There is a rich India and a poor India. A modern India and a traditional India. There is an educated India and an illiterate India. A spiritual India and a materialistic one. How then can we put our finger on where India is now? And where it is likely to be tomorrow?
The most defining mood of the Indian people now is aspiration. People want more. Not in some distant future, or in an afterlife, but now. Today the size of middle class India is five hundred million strong. The poor are still too many. But together, a billion people are surging to push upwards, jostling to remain on the track of upward mobility, at times straining against impossible odds.
This pent-up desire to move up can best be seen in the changing urban landscape of India where change is corroding time honoured notions of behaviour and custom. Tradition clings on. Just about. Under intense pressure to accommodate a more cosmopolitan profile. New townships are sprouting in endlessly growing suburbs and consumerism is the new deity. A process of gradual homogenisation is making all Indians wear the same clothes, enjoy the same food, buy the same things, want the same jobs and watch the same TV soap operas. There is a serious reappraisal of self worth, regardless of caste, creed or religion.
Nothing in India is as good as it seems, or as bad as it appears. The challenge for the world's largest democracy is to retain its distinctive identity against the onslaught of globalisation. To sustain its economic growth with equity.
With excerpts from Lifting the Veil of Hypocrisy by Pavan K. Varma.
Transition 03. Luxury high rise building rises out of Mumbai slums.
Transition 05 - "Live the Way the World Lives." Tag line for this Kolkata luxury condominium complex.
Transition 06. New-built luxury residential towers march through farm land outside Kolkata.
Transition 07. New-built residential towers. Kolkata.
Geometry of Density 06. Suburban housing blocks. Mumbai.
Geometry of Density 01. Mumbai.
Geometry of Density 08. Slum housing and residents. Mumbai.
Geometry of Density 09.
Party preparations at tenement housing block. Mumbai.
Geometry of Density 03. Political billboard and slum housing on encroached Mumbai suburban railway land.
Aspirations 01. At Mumbai Airport.
With family and car. New Delhi.
Aspirations 03. Migrant worker's girl and Popeye . Mumbai.
Untitled. Disabled man and buggy. Mumbai.
Aspirations 15. Newly married couple. Varanasi.
Siesta. Office clerks take a lunch time nap. Mumbai.
Aspirations 04. Impatient shopper and car. Destitute man. Delhi.
Aspirations 06. Tourist and homeless man. Jaipur.
Untitled. On a suburban train. Mumbai.
Aspirations 05. Migrant worker family and roadside home. Mumbai.
Aspirations 07. Couple on honeymoon at the Golden Temple, Amritsar.
Aspirations 08. Newly married middle class couple. Kolkata.
Aspirations 09. Children pick through hazardous waste outside a Kolkata factory.
Aspirations 20. Newly weds. Varanasi.
Aspirations 10. Construction worker. Kolkata.
Aspirations 11. Recycling entrepreneur and son. Mumbai suburb.
Geometry of Density 11. Children pick through a rubbish heap. Mumbai.

Geometry of Density 10.
Grandfather plays with grandchild. Mumbai slum.
Aspirations 14. Bollywood poster. Mumbai.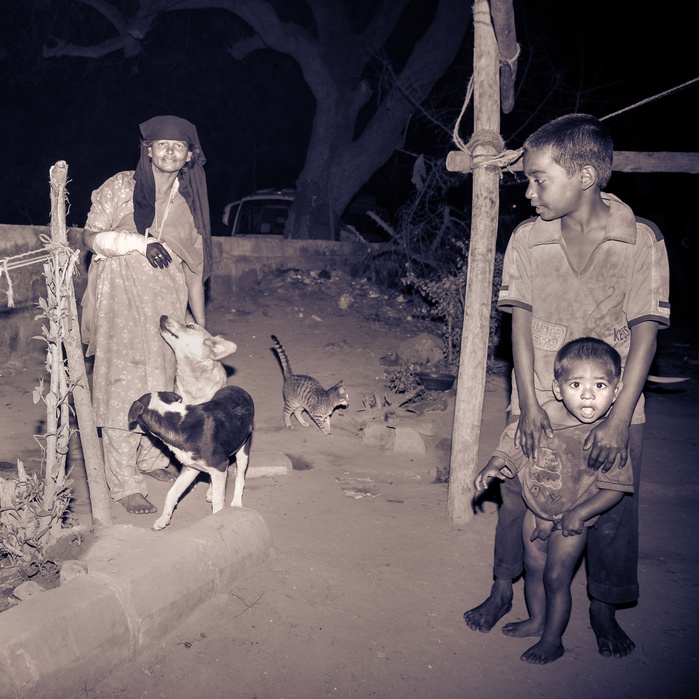 Heartbreak Hotel 01 (Commissioned Series). Deaf-mute woman. Kids and pets. New Delhi.
Aspirations 16. Women shop on the eve of Muslim festival outside a slum. New Delhi.
Aspirations 17. At the Jama Masjid. Old Delhi. Owning a mobile phone brings a strong sense of status.
Objects Appear Closer. Street kid. Kolkata.
Aspirations 18. Man and motorcycle. Mumbai.
The Last Supper. Domestic tourists. Hawa Mahal, Jaipur.
Power of Love. Tramp and billboard girl. Mumbai.
Transitions 12. A new bridge across the Hoogly. Kolkata.
Heartbreak Hotel 02.
Boy after a fire breaks out at the Nizamuddin slum shelter. New Delhi.
Heartbreak Hotel 05.
Lovers sleep under a fly-over in New Delhi.
Heartbreak Hotel 06. New Delhi.
Cup of Tea. Destitute woman outside a cafe. Hossangabad.
Untitled. Slum playground. Mumbai suburb.
Untitled. Brick workers' kids. Rural UP.
Untitled. Children play in water hole outside a slum. Allahabad.
Transitions 11. Faux-Venetian architectural style of a Mumbai suburban luxury housing estate.