Lalit, 40. With family and car. The headlines of India's growth story are well known. Nearly two decades of rapid economic growth is reshaping the lifestyle of Indian families, up and down the income pyramid. This extraordinary social transformation is most evident in the country's middle class. 200 million strong. Independent. Democratic. And with a powerful sense of identity.
IDENTITY 1: 2x4
The Indian government's bold new socio-economic programme Aadhaar, is a logistical and technological operation with mind boggling complexity.
The Unique Identification Authority of India (UIDAI), aims to scan 2.4 billion irises and take 12 billion finger prints for the Aadhaar campaign.
It plans to assign every Indian an unique 12 digit 2x4 inch biometric identity card, providing him or her with instant verification of identity, against the world's largest database.
But Aadhaar is much more than a mere 2x4 inch identity card.
In a country juxtaposed between 21st century globalisation and societal silos rooted in religion, gender, language and caste, identity and what it means to be Indian can be confusing.
For 500 million Indians living in poverty, Aadhaar promises not just an identity, but social and financial inclusivity. It is a ticket to the rich spoils of two decades of rapid economic growth that is transforming the nation.
I asked my subjects what having an identity through Aadhaar would mean to them.
Note: Select subjects requested their names be changed.
Sources: UIDAI, New York Times, McKinsey.
Alam, 48. Unskilled labourer. Outside his roadside home in New Delhi. So far, India's success rate in dragging its poor along the path to prosperity has been patchy. India's welfare system is notorious for its inclusion of the ineligible and exclusion of the eligible. The poor, like Alam and his family, are entitled to subsidies for food, housing and health care, but have no access to such benefits.
Purnima Guria. 75. Widow. Environmental refugee. Sagar Island. West Bengal. A key reason for the colossal failure of India's benefit system is that the needy often lack any means of identification. And thereby a claim to any benefits. An estimated 300 million Indians have no official registration of identity. Such as Purnima Guria, who lost 5 acres of prime farm land to an environmental disaster seven years ago. Without any official identification, she has struggled to receive any government compensation that she is entitled to. She now leads a hand to mouth existence.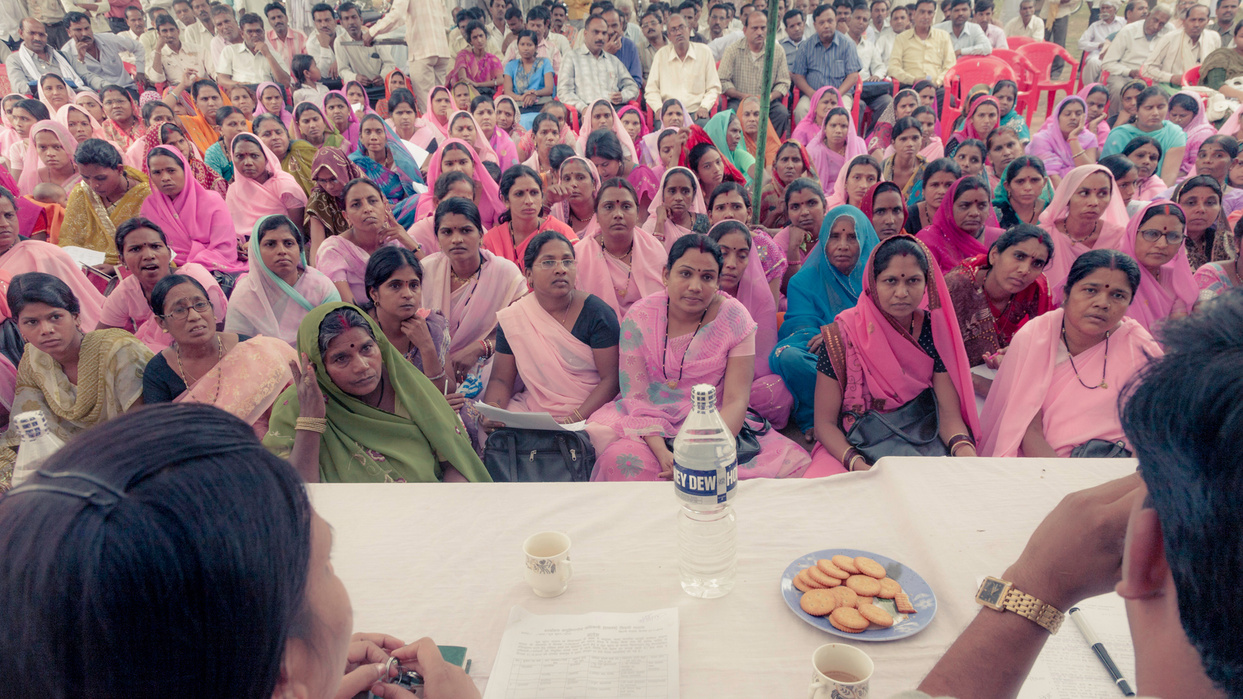 Women volunteers attend an education programme to learn about Aadhaar, India's bold new identification programme. Seoni Malwa. Madhya Pradesh. India Shining: To address the need for large-scale social inclusion, India's most skilled administrators and programmers are undertaking an ambitious project. The world's largest and most audacious government ID project. The Unique Identification Authority of India's (UIDAI) Aadhaar. It's raison d'être: to reduce the inequality corroding India's economic rise by digitally linking every one of India's people to the country's growth juggernaut.
Manju Devi, 28, registers for her Aadhaar card at a mobile camp. New Delhi. The UIDAI aims to collect biometric information on 1.2 billion people - 12 billion fingerprints. 2.4 billion iris scans - and assign each Indian with an unique 12-digit Aadhaar ID number. The number, along with a thumbprint, can verify the identity of any Indian, anywhere in the country, and help the most vulnerable citizens gain access to government benefits.
In a society where identity is almost always mediated through caste, kin and religion, Aadhaar would also serve as a shortcut to building real citizenship. For the first time each Indian can be identified as an individual. After a terrorist attack in Delhi, Manju was picked up by the police during a raid in her slum. Unable to prove her identity, she was accused of being a Bangladeshi refugee and threatened with deportation unless she paid Rs 3000 in bribes.
Pradeep, 30. Unskilled labourer. Aadhaar registration camp. New Delhi. By allowing electronic transmission and verification of many government services, Aadhaar is designed to make it much harder for corrupt bureaucrats to steal citizens' benefits. Millions of Indians, like Pradeep, born without any formal registration, can now demand services and social benefits with Aadhaar.
Kashinath Mondol. 30. Rickshaw driver. Picking up a passenger outside a bank in Kolkata. Financial Inclusivity: Barely 20% of Indians have bank accounts. Problem is, to open a bank account you need proof of identity, something millions of Indians such as rickshaw driver Kashinath just don't have. Aadhaar promises to provide a path to financial inclusion for India's 700 million unbanked. Opening a bank account will become easy, through instant paperless verification.  It's a win-win situation for both banks and consumers. The multiplier effect of this financial inclusivity on economic growth cannot be understated.
Ansari Ali, 50. Labourer. Homeless shelter. Nizamuddin, Delhi. Financial Inclusivity: "The same day that I received my Aadhaar card, a bank employee visited this shelter and I opened a bank account. I can now save a portion of my salary (Rs 200/$3 a day). Until now I had to spend what I earned or I'd get robbed at night in the shelter."
Ashok, 31. Migrant road worker. 20,000ft above sea level. Ladakh. Direct cash transfer of government subsidies could fundamentally alter the economics of millions in India's rural heartland. Ashok, from Chattisgarh, works four months a year in hazardous conditions and sub-zero temperatures, building roads in Ladakh. Aadhaar will allow his family of eight back home to directly receive his hard earned money, deposited in a bank account electronically. The cash-less system eliminates scope for corruption and delay.
Nonibala, 76, and granddaughter. House-maids. Mumbai. Septagenarian Nonibala runs a tight ship in a Mumbai household's kitchen.She moved to Mumbai out of need, rising from abject poverty in one of India's most economically depressed regions. Today, she supports a large family of 20 back in her village, in rural Bengal, sending money home via a bank account she opened with her Aadhaar card.
Devi, 55. Tea plantation worker. North Bengal. Originally Nepali migrant workers on British tea estates in North India, Gorkhas such as Devi have long struggled for recognition as Indian citizens, with full linguistic and cultural rights. A violent movement for Gorkhaland, a separate state, reached its political apex in the 1980s. Devi hopes the Aadhaar card will finally provide her the Indian identity and access to special tribal benefits she wants.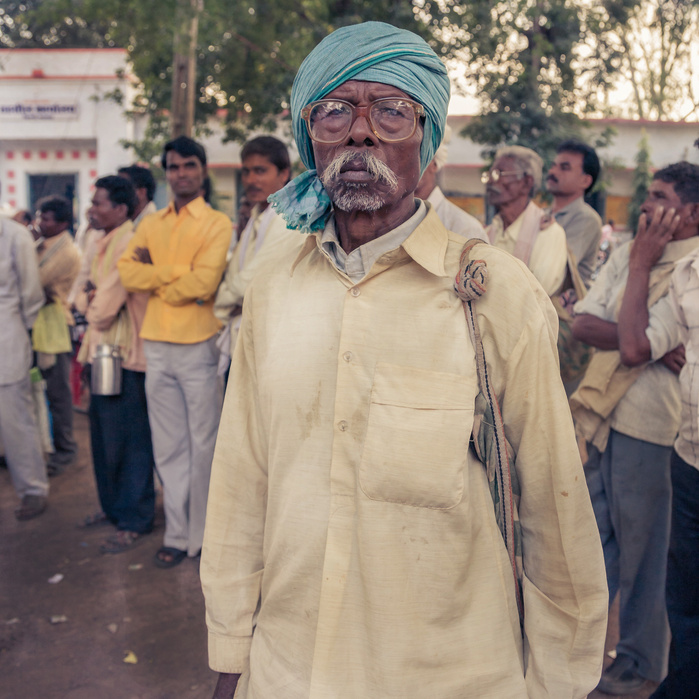 Achal Singh, 65. Farmer. Seoni Malwa. Madyha Pradesh. At an UIDAI pilot event in central India, Achal says he is fed up of middle-men siphoning off the lion's share of central government subsidies directed towards farmers. Such as minimum guaranteed prices for crops and fertilizer subsidies. Achal hopes Aadhaar will enable funds to be directed straight to farmers' pockets, bypassing the "parasitic" middle-men.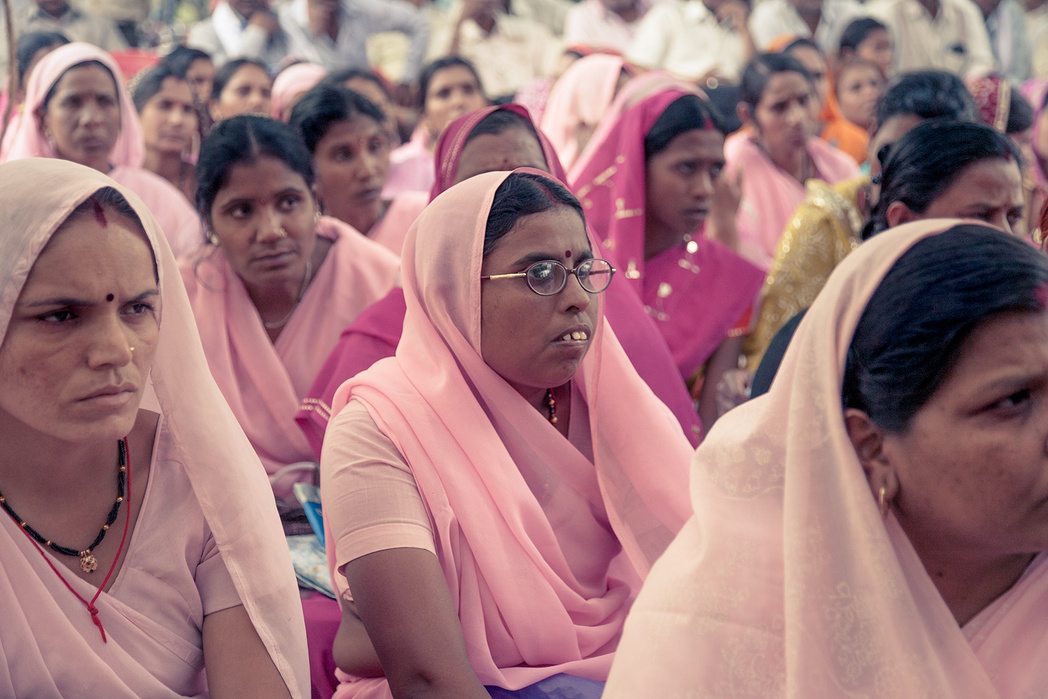 Srimati Maya Devi (centre), 42. Aadhaar pilot event. Seoni Malwa. Madhya Pradesh. Housewife Maya Devi harbours ambitions of fulfilling a grassroots level administrative function one day. She believes that once tracked through a national database, Aadhaar could finally "eliminate rampant voter ID theft during elections." It will pave the way for more women in legislative and administrative functions, wresting power from corrupt incumbents.
Aatya Parveen, 28. Teacher. Slum school. Kolkata. The subject of womens' rights has assumed great importance in the Islamic world and is a burning issue today. India is no different. Muslim women are not just faced with an incumbent culture of gender inequality, they are also subjected to the pressures and constraints of group identity within a minority muslim community. Muslim Personal Law governs the role of muslim women in society -- including marriage, divorce and personal freedoms. Consequently, only 20% of muslim women are considered financially independent. Less than 50% are literate. For the younger generation - such as Aatya - Aadhaar promises to be a catalysing force behind muslim womens' efforts to move from exclusion to inclusion. Offering opportunities to enjoy their full human rights and empowerment through the government's affirmative action programmes that provide greater access to educational, economic and political institutions.
Munir Ali, 22. Unemployed. Living at home with his parents in a Kolkata slum. Despite being 200 million strong, Muslims in India are a minority. Young muslims like Munir often feel discriminated because of their religion, especially in the economic field. Most muslims are by necessity employed or self-employed in small businesses, artisanship and unskilled work. Few are willing to try to break this circle if it exposes them to further discrimination. Munir hopes that Aadhaar will help him break this negative circle, opening better financial and employment opportunities abroad.
Omkar Singh, 55. Taxi driver. With his Aadhaar card in Mumbai. In the 1980s, in a bloody struggle lasting a decade, many Sikhs sought their own independent state. An identity outside the Indian federation. Today, Sikhs such as Omkar feel proud to be part of the great Indian economic hope.
Stanzin Dolma, 40. Changthang nomad and mother of three. Ladakh. At 15,000 feet above sea, Stanzin Dolma lies outside her "summer" home, a light weight tent fabricated from a disused Indian army parachute. Fresh yak's milk cheese dries in the sun next to her. As nomads, Stanzin's family has freely roamed this high altitude Himalayan plateau-land near Tso-Kar, Ladakh for generations, without a care for trans-national boundaries. Does she consider herself Tibetan? Indian? Chinese? She doesn't know. Or seem to care. Her eldest son is finishing his first year at university, far away in the southern Indian city of Bangalore. Stanzin hopes enrolling for an Aadhaar card will help her secure state grants towards her son's university fees. For now, Stanzin's allegiance lies firmly with Aadhaar.