India's Maha Kumbh Mela is the biggest gathering of humanity in history.
PILGRIMS
India's Maha Kumbh Mela is the biggest gathering of humanity in history attracting over 70 million pilgrims.

Part spiritual journey, part commercial circus, the Hindu festival is a full-frontal assault on senses too often dulled by the debilitating sameness of chain outlets, corporate propaganda and designer coffee.
I am here - in India's holy cities of Allahabad and Varanasi during the Kumbh - to find out if the collective effervescence of crowds can be a good thing for one's wellbeing. I am interested in the people that blend in with the crowd rather than stand out from it. To find out what drives them to go through extraordinary hardship to just bathe in a river.

At the Kumbh, one can marvel at the power of faith without converting.
As one man did at the mela of 1896. "It is wonderful," he wrote, "the power of a faith like that, that can make multitudes upon multitudes of the old and weak and the young and frail enter without hesitation or complaint upon such incredible journeys and endure the resultant miseries without repining." The man was an American, and his name was Mark Twain

​Up to 70 million people visited the Kumbh in 2013 in the 55-day festival.
​A massive tent-city half the size of Manhattan sprung up on the floodplains of the Ganges river outside Allahabad.
An army of 10,000 sweepers kept 35,000 portable toilets and 90 miles of makeshift road clean.
The masses arrive from dusty villages and bustling cities aboard tractors, rail and rickshaws, to this place deep in India's soul where myths breathe and gods with elephant heads and monkey bodies embody the country's rich, textured religious culture.
It's the eve of the festival's biggest day for bathing. 10 million people are expected to arrive at the Sangam by dawn.
There is a palpable sense of purpose. Everyone is here for ONE thing.
By bathing here, a pilgrim hopes to wash away his sins and come a step closer to heaven. Breaking the cycle of death and rebirth.
It's 1AM and the pop-up mega-city is lit up like Las Vegas.
Even the Gods must sleep.
This sadhu has been standing on only one leg for the last 10 years in penance. He sleeps standing too.
I spot groups of pilgrims huddled together. They will spend the night out in the open, in the bitter cold, sheltering where they can.
A group of women are marching towards the river.
These women are mostly destitute widows, disowned by their families,
It's the biggest day in their lives. They are being ordained as priests by their guru in a secret ceremony.
The star attraction of the Kumbh Mela are undoubtedly the naga babas.
Naked, snarling, hashish smoking ascetics who once formed a large mercenary army to protect Hindu saints.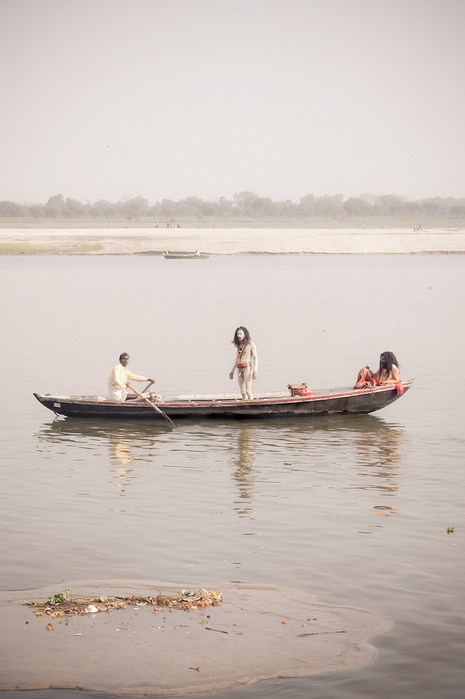 In Varanasi, a naga sadhu - his body smeared in ash - is paraded down the Ganges by boat.
At the Maha Kumbh, a naga sadhu tends to his pet sheep who travels with him everywhere. Traditionally, Nagas renounce all wordly posessions.
The spiritual and commercial intermingle. A hair oil product commercial draws upon Hindu mythology. Maha Kumbh Mela, 2013.
Barbers make brisk business.
At the heart of the Kumbh Mela are pilgrims such as 70 year old Bhagirath Das who come to the mela to live a Spartan lifestyle, dedicated to God and community.
Known as kalpwasis, their daily routine includes: prayers and a dip before dawn in freezing water, ...
... one frugal meal and serving the Kumbh community.
Far removed from the excesses of the shiny gurus and their rich devotees, these ordinary pilgrims make the Kumbh Mela.
For all its spectacular size, the Kumbh Mela is about the individual and his/her aspirations, experience and faith.
"In the West, there's a pervasive idea that when people congregate, they surrender their individual identity." says author Laura Spinney.
But recent research has shown that "crowds are critical to society, they help form our sense of who we are, ..."
"... they help form our relations to others, they even help determine our physical well being." - says psychologist Stephen Reicher.
Thousands gather on the banks of the Ganges in Varanasi for ceremonial evening prayers.
The bliss on the faces of the pilgrims is best summarized by the French 19th century sociologist Emile Durkheim. He coined the phrase collective effervescence.
He was convinced that the collective effervescence of crowds has a positive impact on individuals' health.
The corner stone of the effect is shared identity. "You think in terms of 'we' rather than 'I,'" explains psychologist Nick Hopkins, University of Dundee ...
"... Support is given and received, competition turns to cooperation and people are able to realise their goals in a way they wouldn't be able to alone. That elicits positive emotions that make them not only more resilient to hardship but also healthier."
What happens is a fundamental shift from seeing people as other to seeing them as intimate."